Did you know that one in eight women will develop breast cancer in her lifetime?
A mammogram is an important annual screening because early detection of breast cancer is key. If you're 40 or over, the American Cancer Society recommends scheduling one every year. Regular mammograms are essential to early detection and the fight against breast cancer. In fact, with early detection, the five-year survival rate for breast cancer is 100 percent.
At Bolivar Medical Center, your breast health is important to us. Our caring staff uses the latest technology – like 3D mammography – in a comfortable and welcoming environment to help you stay on top of your health and give you the peace of mind that comes with knowing and being prepared.
Benefits of 3D Mammography
What is 3D mammography?
3D mammography is a type of digital mammography which uses advanced technology to take images of your breast from different angles and combine them to create a more complete and accurate image of your breast than is possible with regular 2D digital mammography. 3D mammography follows the same basic procedure that you're probably accustomed to with regular 2D digital mammography. 3D lasts just a few seconds longer, slightly extending the time of minor discomfort you may feel and the low-risk radiation exposure involved with all forms of digital mammography.
Why should I get a 3D mammogram?
The more complete and accurate image of your breast generated by 3D mammography allows us to detect breast cancer earlier and more effectively than traditional 2D mammography, so that we can take action to help you fight. 3D mammography is particularly effective if you have dense breast tissue or have been given a previous cancer or lesion diagnosis. And 3D mammography's higher accuracy means less unnecessary return visits to the doctor for false positives that turn out to be non-cancerous. What does all of that mean for you? Greater peace of mind.
How can I get a 3D mammogram?
To schedule a 3D mammogram, give us a call at 662.339.3178 When you take control of your preventive health, we're in a better position to work with you to detect any issues that arise and to help you fight them every step of the way. Be your own 'breast friend,' and schedule your 3D mammogram today.
Breast Cancer Awareness
Concerned about breast cancer?
Read more to determine your risk.
Read more about digital mammography at Bolivar Medical Center.
Throughout the year and especially during October, which is National Breast Cancer Awareness Month, our hospital wants to make sure women know how important it is to have regular mammograms or x-rays of the breasts.

Doctors know that screenings for breast cancer save thousands of lives each year, and that many more lives could be saved if even more women took advantage of these tests.

While progress has been made across the board, including less invasive surgeries, genetic testing and more advanced diagnostic technology, an estimated 40,000 women are expected to die from breast cancer this year.

That means breast cancer is still one of the top killers of women in the United States, more than accidents, pneumonia or the flu. Breast cancer is the most common cancer among women in the U.S., other than skin cancer. It is the second leading cause of cancer death in women, after lung cancer.

That's the bad news. But there's good news as well. Right now there are about two and a half million breast cancer survivors in the United States.

Breast cancer death rates are going down. This is the result of more women having mammograms which can find the cancer during its earliest, most curable stages, as well as advances in treatment.

The chance of a woman having breast cancer some time during her life is about 1 in 8 while the chance of dying from breast cancer is about 1 in 35. About 182,460 women in the United States will be diagnosed with breast cancer this year.
How to Decrease Risk of Breast Cancer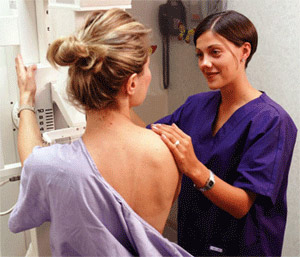 Unlike colorectal cancer, which can be prevented via the removal of polyps during a colonoscopy, there is no sure way to prevent breast cancer. But there are steps women can take that might reduce their risk of breast cancer, or at least help them find it in its earliest, most curable stages.
These steps include:
Maintain a healthy body weight
Regular exercise
Limit alcohol use
If you are over the age of 40, have an annual mammogram
Women who breast-feed their children for several months or do not use post-menopausal hormone therapy (PHT) may also reduce their breast cancer risk.

Most doctors feel that early detection tests for breast cancer save thousands of lives each year, and that many more lives could be saved if even more women and their health care providers took advantage of these tests.