Bolivar Medical Center Physician Recognized by U.S. House of Representatives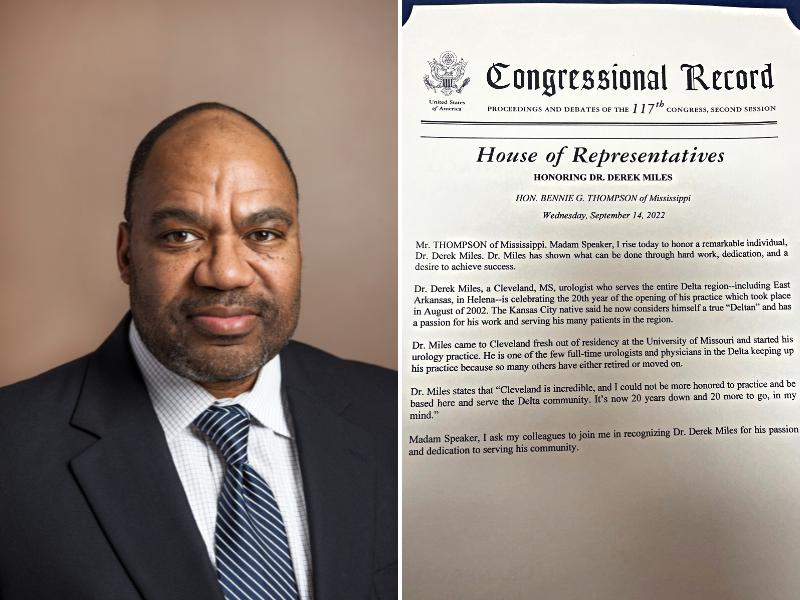 In a recent session of the U.S. House of Representatives, Congressman Bennie Thompson of Mississippi recognized Dr. Derek Miles, a urologist at Bolivar Medical Center (BMC), for his 20 years of service to residents of the Delta region. Dr. Miles began practicing urology in the area in August of 2002 after completing his residency at the University of Missouri.
In his address to the House, Congressman Thompson praised Dr. Miles for his commitment to the region and being one of the few full-time urologists in the area after others have retired or moved elsewhere. Said Thompson, "I rise today to honor a remarkable individual, Dr. Derek Miles. Dr. Miles has shown what can be done through hard work, dedication and a desire to achieve success."
Rep. Thompson noted that though a native of Kansas City, Dr. Miles now considers himself a true "Deltan" and has a passion for his work and his many patients in the region.
Dr. Miles leads a team at Bolivar Medical Center ‒ that includes urologists, the BMC surgery team, anesthesia specialists and nurses ‒ committed to serving the urologic care needs of the region. The hospital's urology services include but are not limited to:
Bladder Stones
Bladder Tumors
Elevated PSA
Enlarged Prostate
Kidney Stones
Phimosis
Dr. Miles shared with Rep. Thompson that "Cleveland (MS) is incredible, and I could not be more honored to practice and be based here and serve the Delta community. It's now 20 years down and 20 more to go, in my mind."
Rep. Thompson concluded his remarks by asking member of the House of Representatives to join him in recognizing Dr. Miles. Said the Congressman, "Madame Speaker, I ask my colleagues to join me in recognizing Dr. Derek Miles for his passion and dedication to serving his community."
To learn more about Bolivar Medical Center's urology services, visit www.bolivarmedical.com/urology or call 662.846.9990.
About Bolivar Medical Center
A part of ScionHealth, Bolivar Medical Center (BMC) is a 164 bed acute-care general hospital accredited by The Joint Commission, which offers a full complement of medical and surgical services. BMC's Emergency Department is a level 4 trauma center, and wait times are available on the website. The hospital also offers a wide array of outpatient services and in addition, includes a 35-bed nursing home, 12 swing beds and 12 geropsychology beds. Learn more about Boilvar Medical Center at www.bolivarmedical.com.
Read All Posts