Bolivar Medical Center's Nikki Herbison Named Finalist for Monarch Award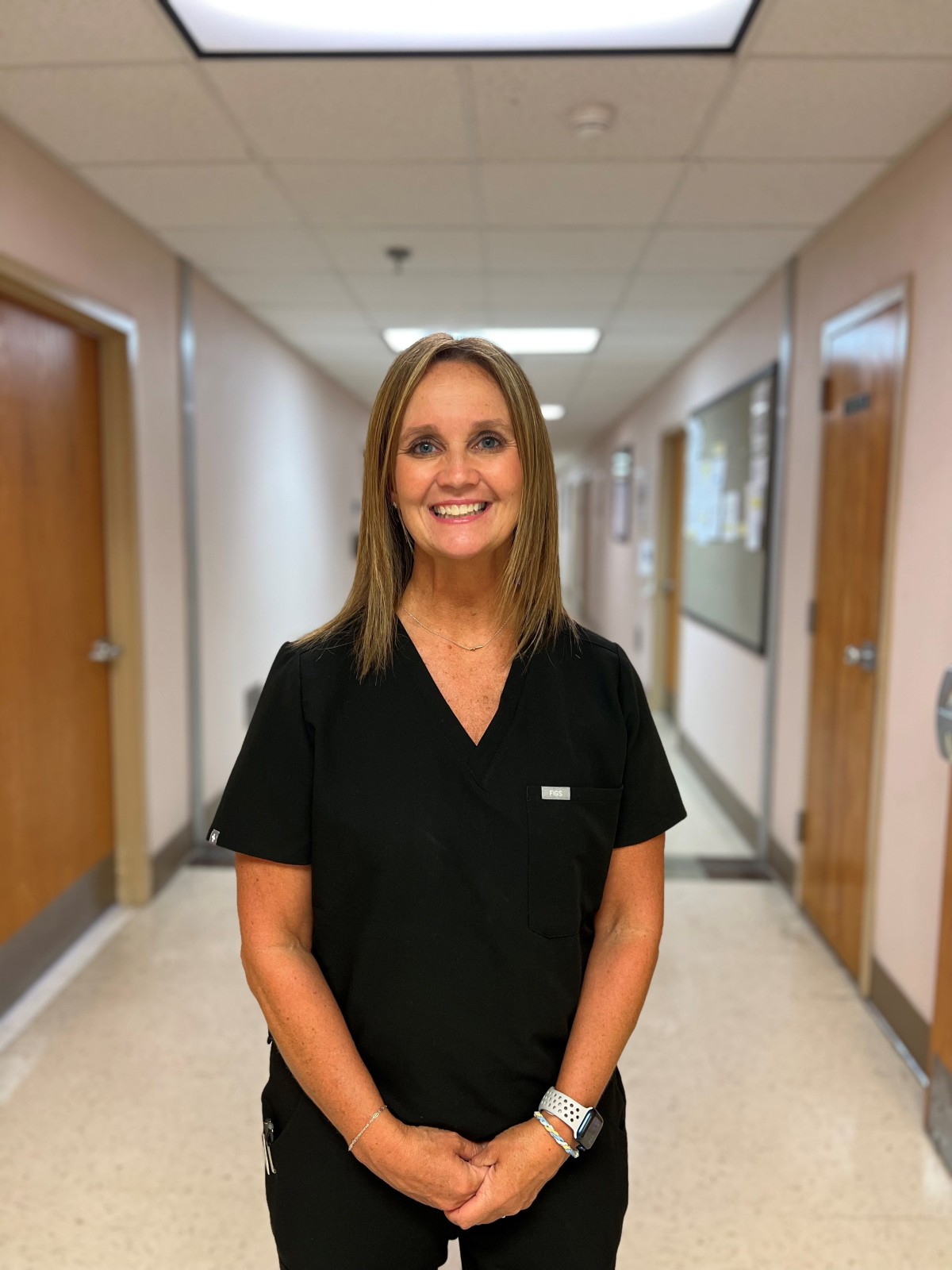 Nikki Herbison, a social worker at Bolivar Medical Center (Bolivar), was honored September 20 as one of 86 finalists for ScionHealth's 2023 Monarch Caring and Community Award ‒ the highest annual honor the company presents to healthcare professionals who work in its 102 specialty hospitals, community hospitals and senior living communities.
Herbison was nominated as the Bolivar honoree by CEO James Young and recognized with the other finalists during the closing event of the ScionHealth Caregiver Summit in Louisville, Kentucky, which is the location of the company's corporate headquarters.
The Monarch Caring and Community Award recognizes the company's most exceptional caregivers who consistently go above and beyond to deliver excellent patient care, elevate the patient experience, and support their colleagues and communities.
In his nomination of Herbison, Young noted her incredible advocacy for patients, their family members, and her team members. He said she not only offers emotional support wherever needed, but also answers a myriad of phone calls from nursing staff and doctors, gets forms signed by patients, calls family members, helps plan patient discharges, and then works to ensure any medications and equipment follow the patient home.
"She has her hand in everything," said Young. "She runs to the emergency room during crisis situations, codes, trauma, and all of the in-between to offer support to staff, patients, and caregivers. She is also the book of knowledge for everything complicated when it comes to the discharge process, from arranging transportation, setting up equipment, contacting family members, helping the indigent get what they need, finding a place for people to go when they leave, prescriptions ‒ you name it, she does it."
Young singled out an instance in which a patient couldn't be discharged to an unsafe home environment and instead was directed to a nursing home. However, the nursing home required a responsible party to sign him in. Herbison did some research and found an estranged spouse willing to do so, but that individual informed Herbison that she didn't have a means of transportation to come sign the necessary forms, or for that matter, even get food for her pet.
"Nikki, the good-hearted social worker, who was looking out for what was best for her patient, picked up the paperwork from the nursing home, picked up some pet food, and drove to the lady's house to get the papers signed," recounted Young. "To me, this shows dedication to her patients and this facility as well as those others she encounters."
For Herbison, that was just an example of another problem solved, something she is often called upon to do because, in many instances, people don't know who else to call.
"With the way the world is now, there are so many people in need and they just simply don't know where to go," explained Herbison. "I get phone calls all day long, and the first thing the person says is 'You may not be the person I need to talk to, but I don't know anyone else to talk to.' After hearing that repeatedly, day after day, you realize that people just don't know where to go, they don't know where to turn.
"I assure them that I am not going to stop until I get them some type of an answer. It may not be 'yes' or it may not be the answer that they were hoping to hear, but at least I have the satisfaction and I hope they have the satisfaction of knowing that I did my best, and everything I could do, to help them. From the advocacy standpoint, I think that's what drives me -- the fact that people sometimes don't have anyone who can actually stand up for them and help them with their situation."
Herbison, a Cleveland, Mississippi native, began her career in social work more than 30 years ago right after college, and has worked at Bolivar for the past 23 years. She said she was always interested in the healthcare profession, but social work offered an opportunity to help others in a myriad of ways.
"I have always enjoyed helping people and being involved in their lives," she recalled. "Medical social work gave me an opportunity to be in the healthcare field and be able to have an impact on others. I'm met with different challenges every day. What makes it so rewarding is being able to come face-to-face with each challenge ‒ in situations where the family needs help or the patient needs help ­‒ and meet their needs, be successful, and keep my doctors happy."
Although she ultimately wasn't named one of the three recipients of the 2023 award, Herbison said she enjoyed her time at the Caregiver Summit and was humbled ‒ and initially surprised ‒ to be nominated for the honor.
"I had mixed emotions," she said. "I was very excited and very honored, but at the same time, I felt a little undeserving. From the outside looking in, others see me as going above and beyond, but in my little bubble, I'm just doing my job. So, I was very honored, but also thought there is probably someone else in this building who deserves this honor, and maybe even more so than me."
Obviously, the hospital CEO and Herbison's nominator felt differently.
"Her job here at our facility is so important," noted Young. "She has the support of all staff, and the physicians know and respect her for her job well done. She rarely takes off and when she does, she still answers the phone!"
The three recipients of ScionHealth's 2023 Monarch Caring and Community Award were Renae Patterson, director of environmental services at Andalusia (Alabama) Health; Donna Kaufhold, a resident care assistant at Trinity Oaks of Pearland (Texas), a senior living facility; and Jade Moore, a registered care dietician at Kindred Hospital Chattanooga (Tennessee). Each Monarch Award recipient received a cash prize, a framed certificate, and a crystal award.
To learn more about ScionHealth's Monarch Caring and Community Award, visit scionhealth.com/employees/monarch-caring-and-community-award.
About Bolivar Medical Center
A part of ScionHealth®, Bolivar Medical Center (BMC) is a 164-bed, acute-care general hospital ‒ accredited by The Joint Commission ‒ that offers a full complement of medical and surgical services. BMC's Emergency Department is a level 4 trauma center, and wait times are available on the website. The hospital also offers a wide array of outpatient services and includes a 35-bed nursing home, 12 swing beds, and 12 geropsychology beds. You can learn more about Bolivar Medical Center at www.BolivarMedical.com.
About ScionHealth
ScionHealth strives to deliver on its promise of high-quality, patient-centered hospital care by empowering the hands that heal to do what they do best. The health system is focused on driving innovation, serving its communities, and investing in people and technology to deliver compassionate patient care and excellent health outcomes. Based in Louisville, ScionHealth operates 94 hospital campuses (76 specialty hospitals and 18 community hospital campuses and associated health systems) and eight senior living locations in 28 states. For more information, please visit ScionHealth.com.
Read All Posts