Experienced Executive Jimmy Young Named New CEO of Bolivar Medical Center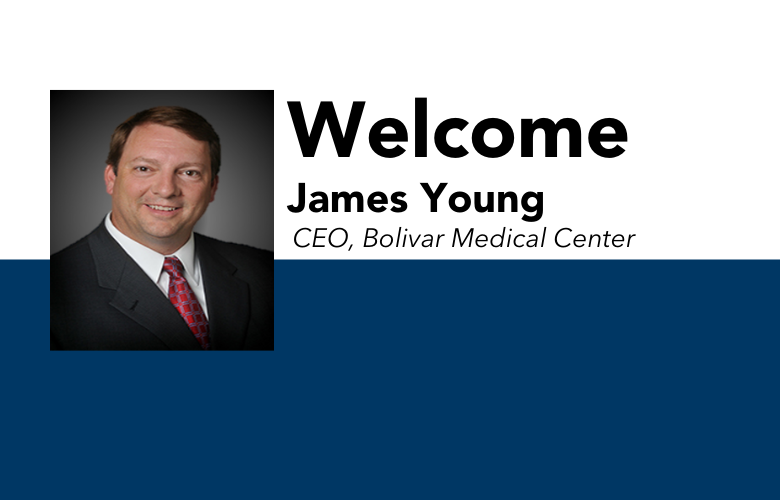 Bolivar Medical Center announced today that experienced healthcare executive James B. "Jimmy" Young, Jr., who has served as a chief financial officer for a variety of hospitals and care providers in Mississippi and throughout the South since 2000, has been named Chief Executive Officer (CEO). His first day will be February 14, 2022.
"Jimmy Young is a perfect choice to step into the role of CEO of Bolivar Medical Center in a community he knows well and cares deeply about," said Robert Wampler, President of Short-Term Acute Care for ScionHealth. "Throughout his distinguished career as a CFO, Jimmy has been a strategic, responsible, caring leader whose fiscal decision-making has enabled hospitals big and small to provide excellent patient care, support their employees and succeed in business."
Since 2019, Young has served as CFO of St. Francis-Emory Healthcare in Columbus, Georgia – a 376-bed acute-care facility and behavioral-health hospital that provides the region's only open-heart surgery program. He has led financial operations and strategy for the hospital while directly overseeing a range of key departments, including the pharmacy, dietary services, information systems, case management and finance.
Before joining St. Francis, Young served from 2015 to 2019 as the Jackson/Vicksburg (Mississippi) Market CFO for Merit Health. The market consisted of six hospitals and more than 30 physician clinics. Young's duties included daily CFO responsibilities for Merit Health River Oaks and Merit Health Women's Hospital in Flowood, Mississippi. From 2010 to 2015, Young served as CFO for Merit Health Wesley Hospital in Hattiesburg, and from 2008 to 2010, he was CFO for Gilmore Regional Medical Center in Armory. He spent eight years before that as a CFO at other hospitals and health systems in South Carolina, Arkansas, Tennessee and Mississippi.
"The Board of Directors of Bolivar Medical Center is excited to welcome Jimmy Young to lead our hospital, which plays such an integral role in Bolivar County and Cleveland," said Dr. Hugh Smith, Board Chair. "He has tremendous experience in responsibly managing and investing resources at hospitals like ours and positioning them to thrive in the communities they serve, with the top priority always being to provide the best in patient care."
The move to Bolivar Medical Center will serve as a homecoming for Young, who holds bachelor's and master's degrees in business administration from Delta State University in Cleveland, as well as his wife, Susan, who is a native of Greenville, MS.
"I am honored and excited to return to Cleveland and serve as CEO of Bolivar Medical Center," Young said. "I am well-aware of how much the hospital means to the residents of Bolivar County as a provider of high-quality medical care and as a large employer. I look forward to working with such a dedicated, skilled team and doing whatever I can to support them in caring for our patients and finding innovative ways to make our great hospital even better."
Bolivar Medical Center is a 164-bed general acute care facility that recently became a part of ScionHealth, a new company based in Louisville, Kentucky, that was formed last month following a transaction between LifePoint Health and Kindred Healthcare. Bolivar Medical Center was formerly a part of Brentwood, Tennessee-based LifePoint.
About Bolivar Medical Center: A part of LifePoint Hospitals®, Bolivar Medical Center's Emergency Department is a level 4 trauma center, and wait times are available on the website. BMC is a 164 bed acute-care general hospital accredited by The Joint Commission, which offers a full complement of medical and surgical services. The hospital also offers a wide array of outpatient services and in addition, includes a 35-bed nursing home, 12 swing beds and 12 geropsychology beds. Visit BolivarMedical.com to learn more about services and operations.
Read All Posts