Bolivar Medical Center Publishes Annual Community Benefit Report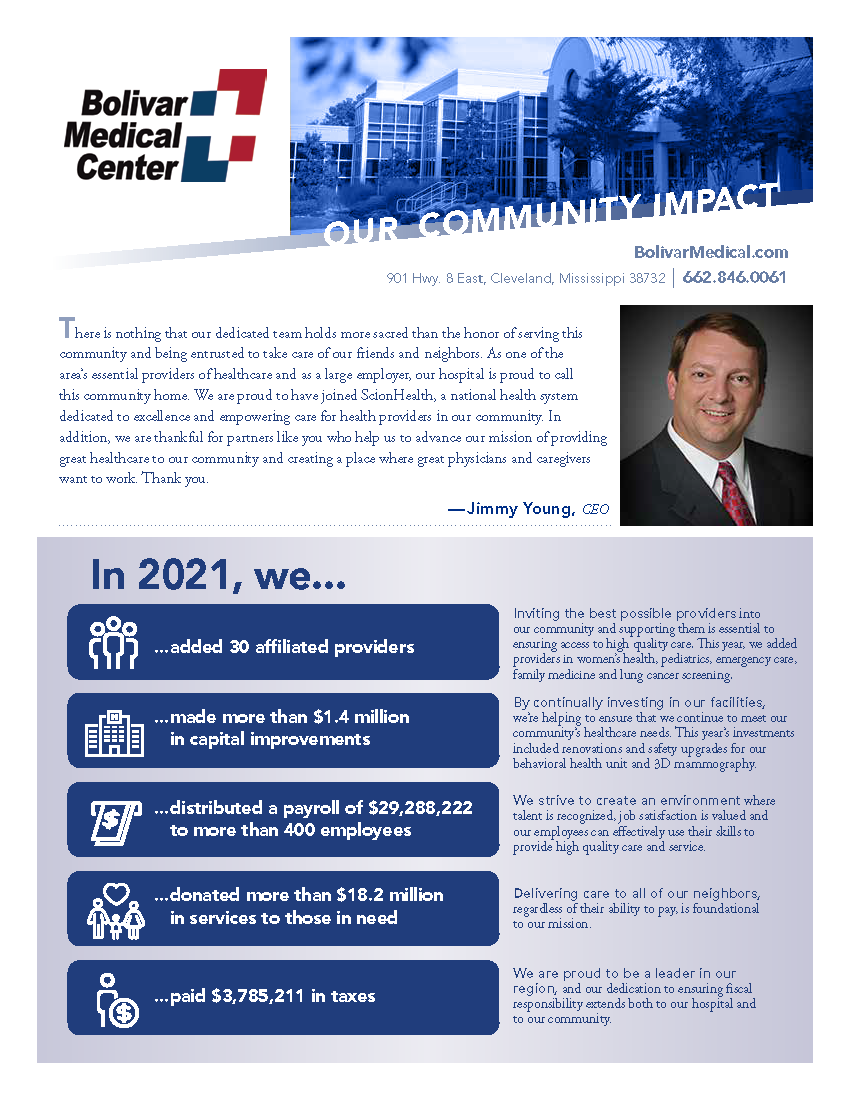 Bolivar Medical Center published its community benefit report for the 2021 calendar year today. This yearly report outlines specific ways the hospital is positively contributing to Cleveland and Bolivar County and spotlights the various ways it is working to support the health and well-being of the community it calls home – an investment which has become increasingly essential in recent years.
"Our hospital is proud of its role as a community leader in Bolivar County as an essential healthcare provider, large employer and active community partner, and we take the responsibility that comes with that role very seriously," says Jimmy Young, chief executive officer (CEO) of Bolivar Medical Center. "Being part of ScionHealth, which is a new and growing system of community and specialty hospitals, allows us to continue to uphold our legacy of care and community leadership, and cultivate an environment where people choose to come for care. We accomplished this thanks in no small part to the hard work and dedication of our remarkable team of providers, employees and volunteers, and the support of those we serve."
Bolivar Medical Center's 2021 community benefit report highlights its continued efforts to meet the growing healthcare needs of its community through welcoming new providers, adding and expanding service lines and continually investing in its facilities and healthcare technology. For example, in 2021, Bolivar Medical Center added 30 affiliated providers; and made more than $1.4 million in capital improvements, including renovations and safety upgrades for our behavioral health unit and 3D mammography.
Additionally, Bolivar Medical Center made a donation of nearly $18.2 million in health services to those in need, demonstrating its continuous commitment to ensuring everyone has access to care, regardless of their ability to pay.
Bolivar Medical Center is also devoted to creating environments where providers want to practice and employees want to work. In 2021, the hospital distributed more than $29.2 million in salaries, wages and benefits for its approximately 400 employees.
This year's annual report also showcases several examples of how Bolivar Medical Center is continually seeking ways to make a positive impact in the communities it serves, extending far beyond the physical walls of its facilities. Last year, the organization paid more than $3.7 million in local and state taxes, displaying its commitment to fiscal responsibility in an effort to boost the area's economic well-being. The hospital is also honored to continue its support of local activities and organizations that contributes to making the community healthier, including Cleveland School District, Bayou Academy, Presbyterian Day School, Bologna Performing Arts Center, Relay for Life, Boy Scouts of America, Chamber of Commerce, Cleveland Exchange Club, Cleveland Junior Auxiliary, Cleveland Park Commission, Cleveland Rotary Club, Delta State University Academics, Alumni and Athletics, Mississippi Blood Services and United Way.
"We are proud to call Cleveland our home and feel truly privileged to contribute to its well-being," said Young. "We are also incredibly grateful for and inspired by the support our communities have shown us in recent years. As we consider the future of Bolivar Medical Center, we are so excited to continue improving the way we serve our neighbors and communities."
Bolivar Medical Center's complete 2021 community benefit report is available here.
About Hospital
A part of ScionHealth, Bolivar Medical Center's Emergency Department is a level 4 trauma center, and wait times are available on the website. BMC is a 164 bed acute-care general hospital accredited by The Joint Commission, which offers a full complement of medical and surgical services. The hospital also offers a wide array of outpatient services and in addition, includes a 35-bed nursing home, 12 swing beds and 12 geropsychology beds.
Read All Posts